Weezer Perform Epic Medley of Hits Plus "Africa" at iHeartRadio's ALTer EGO
Weezer hit the stage at iHeartRadio's ALTer EGO on Saturday, January 19, at The Forum in Los Angeles ahead of kicking off their 21-city spring 2019 tour with the Pixies. Frontman Rivers Cuomo was joined by longtime bandmates Patrick Wilson, Brian Bell and Scott Shriner and delivered an epic medley of hits ranging from 1994's "Undone (the Sweater Song)" to current hit cover of Toto's "Africa."
The band also performed new tracks "Can't Knock The Hustle" and "Zombie Bastards" off forthcoming album Invasion of Privacy, also known as The Black Album, which is expected to drop March 1.
Shortly after releasing their tenth album Weezer (The White Album) the band teased The Black Album, which marks Weezer's fifth self-titled LP, following their 1994 debut (aka The Blue Album), 2001's Green Album, 2008's Red Album and 2016's White Album.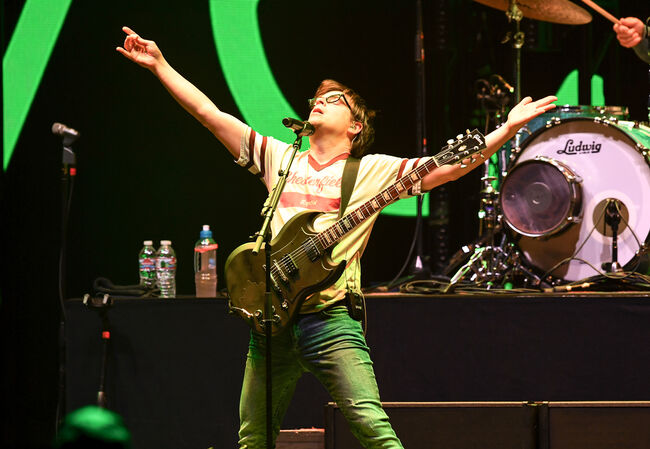 "I think it's going to maybe be like Beach Boys gone bad," Weezer previously said. "I'm thinking of swearing, which is something I've never done in songs."
The band's full set included forever hits 1994's "Undone (the Sweater Song)," 2001's "Island In the Sun," 2005's "Beverly Hills," 2001's "Hash Pipe," 1994's "Buddy Holly," 2008's "Pork and beans" and 1994's "Say It Ain't So."
Following the release of The Black Album on March 1, the band will embark on tour, kicking off in Louisville at the KFC Yum! Center and winding through the Northeast and Midwest, wrapping up on the West Coast in April in Las Vegas.