Katy Perry, Ed Sheeran, The Chainsmokers & More To Perform At iHeartRadio Music Awards
Just now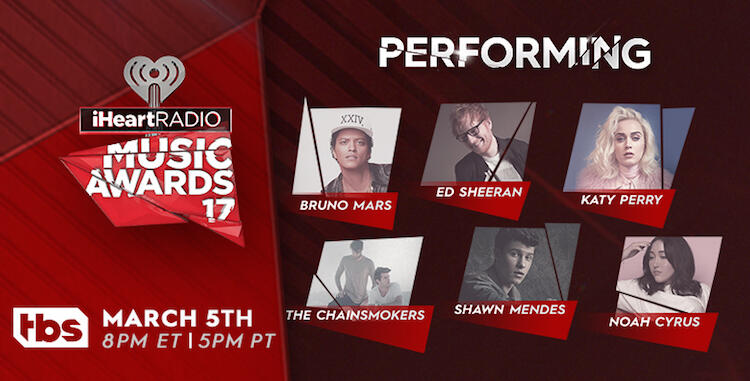 Last month, we revealed all of the iHeartRadio Music Awards nominees, as well as the very first performer on the epic show's lineup: Bruno Mars. Now, iHeartRadio is thrilled to announce the other talented artists who will be taking the stage this year on March 5th at the historic Forum in Los Angeles.
Joining Bruno and performing live at the 2017 iHeartRadio Music Awards is are Katy Perry, Ed Sheeran, The Chainsmokers, Shawn Mendes, Thomas Rhett, Noah Cyrus and Big Sean. And hosting the star-studded affair this year is the one and only Ryan Seacrest.
Nominees for the iHeartRadio Music Awards were announced on January 4. Drake leads nominees with 12 nominations, including Male Artist of the Year, while The Chainsmokers received 11 nominations, including the inaugural Best New Pop Artist category. Other artists who have received multiple nominations include Rihanna, twenty one pilots, Justin Bieber, Ariana Grande, Beyoncé, Daya, Halsey, Nicky Jam and Sia. For a full list of nominations visit CLICK HERE.
Fan voting will determine this year's Best Fan Army presented by Taco Bell®, Best Lyrics, Best Collaboration, Best Cover Song, Best Song from a Movie and the first-ever Best Music Video, Social Star and Best Underground Alternative Band awards. Social voting for the Social Star Award and Best Fan Army Award presented by Taco Bell began through iHeartRadio's social sites and in the iHeartRadio app on January 3, while social voting for all other categories began on January 4. Voting will close on February 24, with voting for the Social Star Award and the Best Fan Army Award presented by Taco Bell continuing through the evening of the awards on March 5. Fans can vote by visiting iHeartRadio.com/awards.
Tune in and watch the 2017 iHeartRadio Music Awards live on March 5th at 8 p.m. ET/5 p.m. PT on TBS, TNT and truTV. Additionally, the awards show will be simulcast on iHeartMedia stations nationwide, as well as on iHeartRadio, the all-in-one digital music and live streaming radio service. Don't miss it!
Read more: http://1013.iheart.com/articles/trending-104650/katy-perry-ed-sheeran-the-chainsmokers-15562915/#ixzz4YlXqrQe9