Andy Cohen Addresses The Rumors That He's Dating John Mayer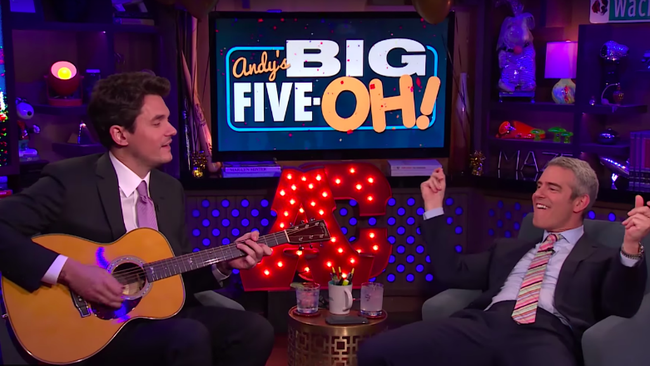 Andy Cohen and John Mayer are close friends, as evident by the pop singer/songwriter's recent serenade to the late-night host on Watch What Happens for his 50th birthday. While the acoustic performance ended with Mayer planting a kiss on Cohen, the two aren't dating, contrary to the Internet whispers.
Cohen recently spoke to CNN and sounded off on the rumors that he and Mayer have forged a romantic connection. "Listen, we have a very sweet friendship, and we are together all the time. I think that I was not surprised because we also have a great love for each other. So, it just seems like the obvious assumption," he explained. When urged to clarify whether or not the two are an item, the Real Housewives head honcho said: "Right [we aren't dating]."
However, he did divulge into his closeness with the pop heartthrob, admitting that Mayer was one of his last five calls and his chat with the singer happened via Facetime at 2 AM.
What does Andy look for in a partner? Well, since confirming that he and former boyfriend Clifton Dassuncao broke up in March, it seems like independence is at the top of his list. "Someone who is like John Mayer. Just kidding. What am I looking for? I'm looking for someone strong, independent, smart, who has their own thing going on," he told the outlet.
You heard it first, fellas. If those qualities fit your persona, put Andy Cohen on your radar.
Photo: YouTube/Watch What Happens Live with Andy Cohen