DJ Khaled Teases What's to Come With Forthcoming 11th Studio Album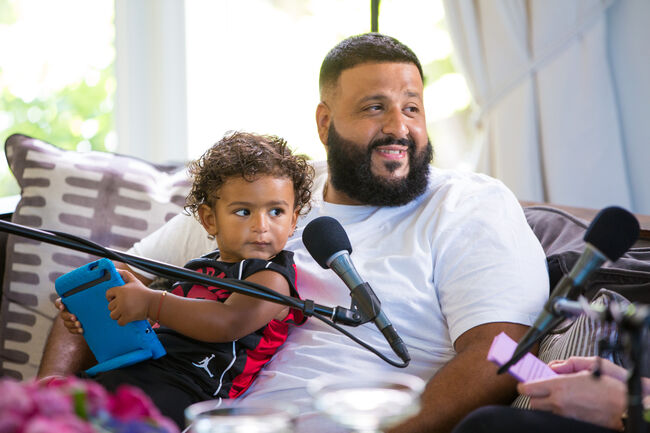 Anotha one! Grammy-nominated producer DJ Khaled welcomed Arianna Huffington to his home to chat about everything from raising son Asahd to his highly-anticipated forthcoming 11th studio album for the latest Thrive Global Podcast brought to you by Sleep Number.
The Grammy-nominated musician, best-selling author and, of course, Father of Asahd, most recently reunited Chance the Rapper, Justin Bieber and Quavo for new single "No Brainer" and is excited for what's to come with his equally star-studded 11th studio album.
"First of all, I want to show my love to Justin Bieber — such an amazing friend, amazing artist," DJ Khaled shared. "He has so much love. He shows me so much love. I'm so grateful for my relationship with him. I've known Justin Bieber for a long time and I was blessed to make a No. 1 record with him last year called 'I'm The One.' It went No. 1 in so many countries. It debuted No. 1 on the Billboard Hot 100. It was just incredible, the experience to shoot a video and record a record with an icon like Justin Bieber. I reached out to him again. I'm back working on my new album called Father of Asahd."
Father of Asahd will feature 11 tracks in honor of it being DJ Khaled's 11th studio album. Among the tracks will be "No Brainer" and DJ Khaled teased that fans can expect a bevy of more collabs.
"Father of Asahd, Justin Bieber, he's on that," DJ Khaled continued. "It's top secret though. I'm telling you some stuff, but it's top secret. We got something up our sleeve that the fans worldwide is gonna love. I'm excited about it because not only do we make great music together, he's a great person. You know what I'm sayin'? Justin Bieber is just such a good friend and a great person with a great spirit. He's an icon."
DJ Khaled added that he also wants to get "To the Max" collaborator Drake on the album.
"Me and Drake, we're always brothers," he shared with Huffington. "We're always working on music together. God willing that I can get him on my new album."
The producer has been influenced by little Asahd since he was born in October 2016. His tenth studio album, Grateful, featured Asahd on the cover and 23 tracks in tribute to his birthday, October 23.
"My son has given me more life, more blessings. He's given me this word 'love' that we say, but it's more than love," he concluded. "I can't find this word. Only mothers and fathers can understand what I'm saying. It's a feeling that is just unbelievable. It's happiness. It's joy."
Listen back to the full interview above for more.
The Thrive Global Podcast with iHeartRadio, hosted by Arianna Huffington, where she speaks with notable leaders, celebrities, athletes and influencers to learn how prioritizing well-being — instead of burnout and overwork — has made them happier and more successful. This podcast provides tips, tools and microsteps to transform your life and go from surviving to thriving.
The Thrive Global Podcast is brought to you by Sleep Number.