Future Blasts Ex Ciara's Husband: 'He Do Exactly What She Tell Him To Do'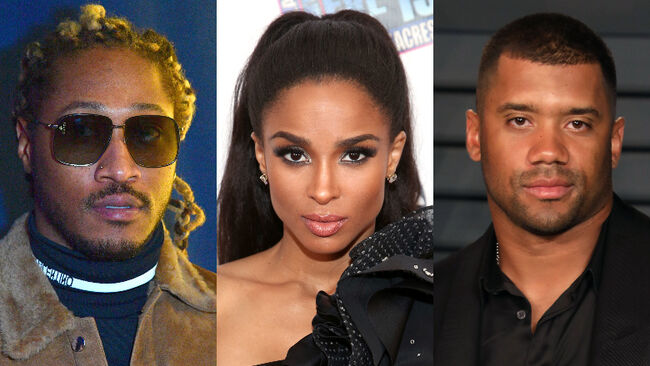 Let's just say there's no love lost between Future and his ex-fiancee Ciara's husband, Russell Wilson.
While promoting his new album, The WIZRD, Future took quite a few shots at the Seattle Seahawks quarterback, who's been married to Ciara for two years and is the stepfather to Future and Ciara's four-year-old son, Future.
During the interview, the "Fine China" rapper claimed Ciara introduced their child to Russell before asking him his opinion on the two meeting. Future then took the opportunity to shade Russell, after being asked what he thought of the NFL football player. "He do [sic] exactly what she tell [sic] him to do," he claimed, per Complex. Adding, Russell should be a "man" and forbid Ciara from even mentioning his name in public. "He not being a man in that position," he said. "He not tellin' her, 'Chill out with that on the internet. Don't even talk to him. I'm your husband! You better not even bring Future's name up!' If that was me, she couldn't even bring his name up. She know that. She couldn't even bring her exes' names up. I don't what they gave you [...] Don't give that s**t no energy."
As fans know, Ciara and Future have had quite the tumultuous co-parenting relationship over the years. Just last month, the "Level Up" singer filed new legal documents requesting that the court force Future, whose real name is Nayvadius DeMun Wilburn, into mediation so they can work on a new travel schedule for their son. Ciara's new filing came eight months after she initially asked the court to get involved with their custody agreement. Back in April, Ciara called Future out for being an absentee father, claiming he skips out on tons of scheduled visits with their son. She also asked for a more consistent travel schedule.
According to the court documents, obtained by TMZ, "Future no-shows for visits 37 percent of the time," and frequently does so at the last minute, which messes with her schedule. The mom-of-two additionally claimed that when Future does go to visit his father in Georgia he ends up spending most of his time with his grandma or great grandma instead of his dad. Adding that "little Future has health issues that have been exasperated by all the cross-country travel." She said their son is "constantly exhausted due to the travel and, as a result ... has emotional breakdowns while he's at school."
Photo: Getty Images