Maroon 5 Defend Decision to Play Super Bowl Amid Backlash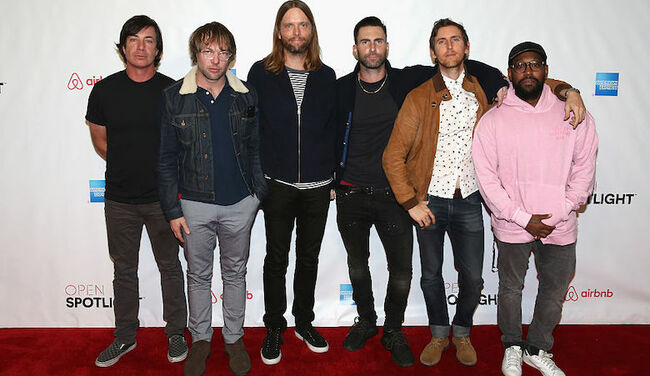 After months of speculation, Maroon 5 was confirmed as the Super Bowl LIII halftime show headliner last week. Though that slot is a historically prestigious honor in the music industry, this year's has been shrouded with controversy.
Before Maroon 5 was publicly confirmed, thousands of people signed a petition urging them to drop out in solidarity with exiled NFL player Colin Kaepernick. As a result, it was reported that Levine and company were having trouble finding acts to join them for the event. Travis Scott and Big Boi eventually signed on, with the Astroworld rapper negotiating with the NFL to donate $500,000 to the Dream Corps. charity; however, a new petition has surfaced urging the performers to take a knee during their set.
In a recent interview with People, Maroon 5 keyboardist PJ Morton defended the band's decision to play the Super Bowl amid backlash.
"I think there are plenty of people — a lot of the players, to be honest — who support Kap and also do their job for the NFL," he explained. "I think we're doing the same thing. We can support being against police brutality against black and brown people and be in support of being able to peacefully protest and still do our jobs. We just want to have a good time and entertain people while understanding the important issues that are at hand."
"There was a lot to go into that decision," he added.
"You can get bogged down by those things, we're not focusing on the negative now [while] being aware, being open, and definitely not ignoring the voices," he continued, addressing the backlash. "But we're definitely not focusing on the things that don't help, that are counter-productive. We're blocking out the noise. We're just doing what we do. We look to have a good time."
When asked if the band planned to make a statement during their performance, Morton played coy. "We'll see, man," he said. "We got some time before we get there, and whatever we do, I'm going to stand behind [it] and be proud to be up there doing what I do. I want to make sure we get the show down, and that's the matter at hand right now."
Super Bowl LIII is set to commence on February 3rd from Mercedes-Benz Stadium in Atlanta.
Photo: Getty Images